Join Us For The 2021 ABNB Community Foundation Golf Tournament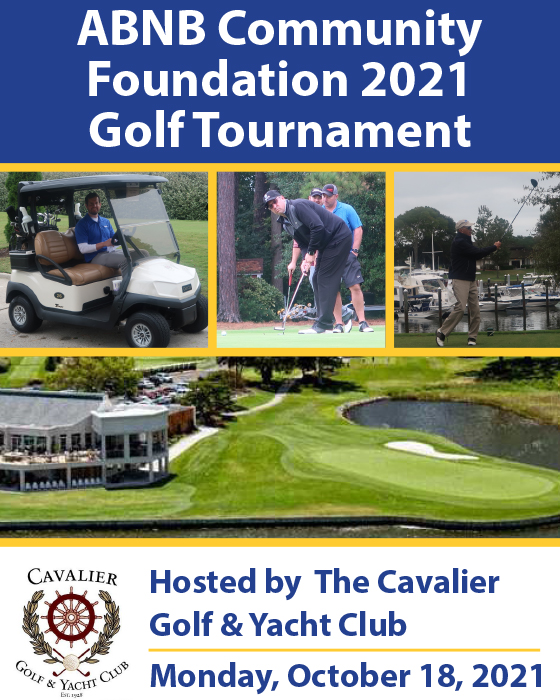 Join Us For The 2021 ABNB Community Foundation Golf Tournament
The ABNB Community Foundation is proud to host our annual golf tournament fundraiser on Monday October 18, 2021 at The Cavalier Golf & Yacht Club in Virginia Beach. ABNB has a long and storied history of charitable giving and community involvement dating back to the credit union's founding in 1960.
With a commitment to making a difference in the communities we serve, the ABNB Community Foundation, a 501(c)(3) organization, supports causes and charities benefiting children and families in our region.
This year we've added exciting prizes, expanded on-course contests, enhanced food and beverages both on the course and after play, plus increased the value of player gifts. We appreciate you as a key business partner and look forward to your participation in our foundation golf event. With that said, we're confident you will help us meet our 2021 fundraising goal of $150,000 this year!
Below is a list of major sponsorship opportunities. As an important partner to ABNB, please consider sponsoring the Foundation Golf Tournament at the highest levels. By sponsoring this event, you'll receive recognition as a preferred business partner of ABNB prior to the event and on the day of the tournament. You'll also receive the satisfaction of knowing that 100% of your contributions will directly help improve the lives of families and children throughout the year.
Please review the sponsorship information below and visit ABNBfcu.org/foundation to pay for your sponsorship online via credit card or send us a check made payable to ABNB Community Foundation with "Golf Sponsorship" in the memo line. Mail to:
ABNB Community Foundation
830 Greenbrier Circle
Chesapeake, VA 23320
Attn: Foundation Chairman
If you have questions regarding the golf tournament or sponsorship levels please contact Kiara Davis, Marketing Brand and Community Coordinator at [email protected] or call 757.523.5733. Thank you for your support and consideration. We really appreciate it.