Tips To Help Prevent Fraud on Your Account and Recover From Identity Theft
The security of your account is very important to us, and we want to help you keep it protected. We are seeing an increasing number of members falling victim to fraud and identity theft scams and wanted to make sure you're armed with the information you need to know to protect yourself. These days, scam artists can steal your personal information to open fraudulent accounts, apply for credit cards and loans in your name, gain employment opportunities and even steal money you've saved for retirement. Fraudsters may contact you by email, text, or phone impersonating and ABNB employee. Beware, and don't let them steal your critical and confidential information.
Scammers are creating fake sites that look like legitimate financial institution websites. When you search for a company's information, these fake sites could lure you to call what appears to be a legitimate number for the company, and then attempt to obtain your account information. Don't be fooled.
At ABNB, we're able to provide you with the knowledge and expertise you need to protect yourself from fraud on your accounts and prevent identity theft. One thing to remember, you should never provide sensitive personal information in response to an unsolicited call, text, email, fax, letter or internet ad.
Helpful Hints to Help Prevent Fraud on Your Account
The security of your personal information is a primary goal of ABNB. We will never call you or email you asking for sensitive personal information, so don't be fooled.
ABNB will never call to ask you to provide or verify your full Social Security or account numbers.
ABNB will never call, email, or text you to ask for your personal account information including account number, Online Banking User ID or password, or answers to security questions.
ABNB will never send you an email directing you to a website to "verify" your personal or account information or any transaction.
ABNB will never send you a text message directing you to call a phone number to "verify" your personal or account information or any transaction.
ABNB staff members will never ask for your password, PIN or the CVV on your debit/credit card
If You're A Victim Of Identity Theft
Take a deep breath- we're here for you. The best course of action is to act immediately to ensure you put a stop to it as soon as possible. Call your financial institution(s) and credit card companies to cancel all cards and active accounts. Report your suspicions to one of the following credit bureaus: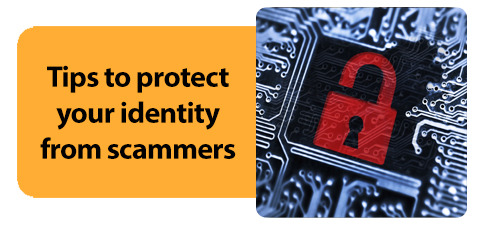 Beware of FEMA Funeral Assistance Scams
FEMA's Funeral Assistance Program has controls in place to prevent fraudulent activity.
FEMA will not contact anyone until they have called FEMA directly or have applied for assistance.
Do not disclose information such as the name, birth date or social security number of any deceased family member to any unsolicited telephone calls or e-mails from anyone claiming to be a federal employee or from FEMA.
If you doubt a FEMA representative is legitimate, hang up and report it to the FEMA Helpline immediately at 800.621.3362 or the National Center for Fraud Hotline at 866.720.5721.
Official complaints also may be made by contacting local law enforcement agencies.
Don't Give In!
Remember, you are not responsible for any bills or checks cashed as a result of identity theft. If any merchant, financial institution, or agency tries to make you responsible, tell them that you'll cooperate but do not allow anyone to force you into paying for fraudulent charges.
The Federal Trade Commission also has many resources to assist you in the event of Identity Theft. These include:
Stay Safe When Making Deposits And Withdrawals At Night
We encourage you to be safe and secure when making transactions at ATMs and night depositories. Here are some important safety tips when using ATMs and the night depository.
Prepare the transactions at home to lessen the time you'll need to spend at the ATM.
Observe the area around the ATM or night depository before making your transactions. Avoid suspicious circumstances or poorly lit locations.
Have your card or deposit in hand before approaching the ATM or night depository facility.
Stand close to the ATM when making your transaction. Don't allow anyone to see your Personal Identification Number (PIN), account numbers or transaction amounts. When your transaction is completed, pocket your card, receipt and money and move away quickly.
For drive-up ATMs or night depositories, keep your engine running, doors locked and windows up while waiting in line. Observe the area around your car before rolling down your window. Leave enough room between cars for a quick exit if necessary and drive away immediately if you see anything suspicious.