Bill Pay offers the convenience of paying all your bills securely from one convenient location, while saving you time and money. It gives you the flexibility to do almost anything with your money; check out some of the features listed below!
Features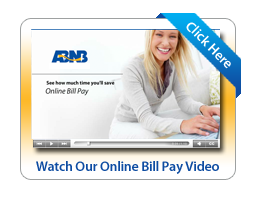 FREE Account to Account Transfers 
Send Money to Family and Friends
Group Payments into Categories
Same Day/Next Day Payments
View pending, recent, and upcoming payments
Payments Guaranteed by Due Date
Request Money/Send Invoices with Popmoney
View the Bill Pay demo and learn about its features →
Enroll in Bill Pay
Bill Pay is a completely FREE service offered to our members for an unlimited number of payments, as long as you have the following:
A checking account
Direct Deposit
eServices (which includes e-lerts, notifications, and eStatements.)
You can enroll in Bill Pay now through your ABNB @ Home account at any time. Once you try Bill Pay, you'll wonder what you ever did without it!
Bill Pay Support
Would you like help setting up your Bill Pay account? Come in to any of our local branches or call our Member Service Center at (757) 523-5300 and we'll be glad to help!
Already have an account? For troubleshooting and questions about payments, please call (855) 892-7235.