July Staff Spotlight: Krystal Jones, MSR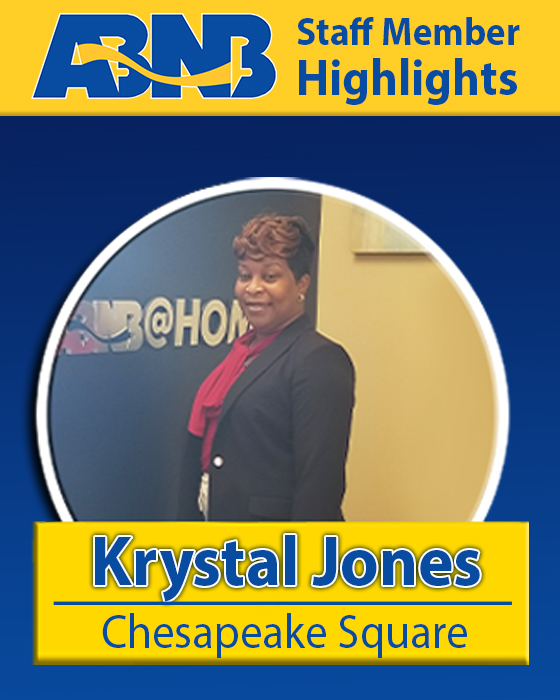 If you've visited ABNB's Chesapeake Square branch, you've likely met Krystal. Krystal Jones is a seasoned Member Service Representative at Chesapeake Square. She entered the banking industry in 2001 and joined ABNB in 2016 at the former Guardian location. Krystal is an area expert when it comes to helping our members understand ABNB's great HELOC products. "Krystal is member focused and knowledgeable. She truly cares about each and every one of her members and their needs" says Jennifer McCallister, Relationship Manager.
Krystal's not all business though. She loves to sing and loves fashion! In her own words she "loves a good heel with the bag to match." Girl, we agree! When she's not on the clock Krystal also jives with any songs that have a good beat and are heartfelt. She also loves to read and watch movies; Hallmark is her favorite channel! Krystal loves dogs (specifically those sized to fit nicely in previously mentioned matching purses) but she's petrified of cats.
Now that you know a little bit more about one of ABNB's star employees, don't forget to sit down to let her know a little about yourself. Be sure to chat about how she can help you save big time on your home loans. Set up an appointment with Krystal at ABNB's Chesapeake Square branch today by calling (757) 523-5300 x1604.