Find a checking account that fits your lifestyle.
Different life stages come with different needs. For some folks, maximizing finances through dividends and ATM rebates is the goal. For others, it's all about the freedom of online banking and mobile deposits. No matter where you're at or what you're looking for, we've got a variety of checking and savings accounts that fit the bill.


Even better, many of our solutions — including the Everyday Earnings, Everyday Value, Young Adult, and Military accounts — provide extra benefits like fuel rewards, free roadside assistance, extended warranties, and discounts for shopping, dining, and travel. Plus, with direct deposit from ABNB you'll get paid up to one day early. Can your bank do that?

Key Features
Variety of Options
Visa® Debit Card
Digital Banking
While all ABNB checking and saving accounts provide members with access to online banking and mobile deposits, some account benefits vary. Looking for a cheat sheet? Check out the table below. Want the abbreviated version? Four out of five checking accounts will grant you access to fuel savings, roadside assistance, healthcare savings, shopping discounts, and much, much more.
| Details & Features | Everyday Value | Everyday Earnings | Young Adult & Military | Everyday Freedom |
| --- | --- | --- | --- | --- |
| Minimum Opening Deposit | $20 | $20 | $20 | $20 |
| Monthly Fee | $5.95/month | $8.95/month** | $2.95/month | Free with eStatements |
| eStatements | Free* | Free* | Free* | Free* |
| Dividends | N/A | Yes (See Rates) | N/A | N/A |
| ATM Rebates | Up to $15/month | Up to $15/month | Up to $15/month | Up to $5/month |
| Fuel Discounts | Yes | Yes | Yes | N/A |
| Roadside Assistance | Yes | Yes | Yes | N/A |
| ID Theft Assistance | Yes | Yes | Yes | N/A |
| Buyer Protection & Extended Warranties | Yes | Yes | Yes | N/A |
| Health Savings | Yes | Yes | Yes | N/A |
| Shopping Discounts | Yes | Yes | Yes | N/A |
| Billshark | Yes | Yes | Yes | N/A |
| Cell Phone Protection | Yes | Yes | Yes | N/A |
| Overdraft Protection | Yes | Yes | Yes | Yes |
**$8.95/month service fee if average daily balance falls below $5,000. Some restrictions apply.
Be Able checking is our basic, no-frills, no-cost account that can help rebuild your credit. $20 minimum to open with no monthly minimum balance required. Get paid early with free direct deposit, a free debit card, plus free online/mobile banking and self-service telephone banking. $500 in monthly deposits and at least 15 debit card swipes required during the month to avoid the $5.95/month maintenance fee. $4.00/month paper statement fee waived with eStatements. Some restrictions apply.
It's as easy as 1, 2, 3:
Call the Member Service Center at 757.523.5300.
Use online banking to send us a message through the Secure Message Center.
Stop by your local branch to speak with us in person — we'd love to see you.
Life happens. When it does, we've got you covered.
In the event that your checking account can't cover a recent purchase, overdraft protection provides peace of mind.
Overdraft Options
We offer three types of Overdraft Protection:
Transfer From Savings: In accordance with federal regulations, you may transfer money from your savings account to your checking account up to six times per month to cover insufficient funds.
Overdraft Line of Credit: Alternatively, you may consider an ongoing "line of credit." Interest rates for this option vary based on credit qualifications but will allow you to pay overdrawn funds. Then, you'll pay those back from your primary account.
Premium Overdraft: Offered to qualified checking accounts, our Premium Overdraft program provides additional financial security by allowing you to overdraw your checking account up to a certain amount and returning to a positive balance within a set amount of time. Note: A $35 overdraft fee will apply per "item", but no other interest or late fees will be charged. Terms and conditions may apply.
*Overdraft Protection Plan. If we have approved an overdraft protection plan for your account, we will honor checks drawn on insufficient funds by transferring funds from another account under this Agreement or a loan account, as you have directed, or as required under the Credit Union's overdraft protection policy. The fee for overdraft transfers, if any, is set forth in the Truth-In-Savings Disclosure. This Agreement governs all transfers, except those governed by agreements for loan accounts.
**If, on any day, the funds in your savings account are not sufficient to cover checks, fees or other items posted to your account, we may pay or return the overdraft in accordance with our overdraft policy or an overdraft protection plan you have with us. The Credit Union's determination of an insufficient account balance may be made at any time between presentation and the Credit Union's midnight deadline with only one review of the account required. We do not have to notify you if your account does not have funds to cover checks, fees or other posted items. Whether the item is paid or returned, your account may be subject to a charge as set forth in the Truth-in-Savings Disclosure. Except as otherwise agreed in writing, we, by covering one or any overdraft, do not agree to cover overdrafts in the future and may discontinue covering overdrafts at any time without notice. If we pay a check or impose a fee that would otherwise overdraw your account, you agree to pay the overdrawn amount in accordance with our overdraft policy.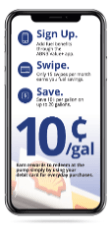 ABNB Value+
Don't miss out on all the perks and benefits of your account.
Download the ABNB Value+ app today.