Mobile Banking with Mobile Deposit
You have enough errands to run throughout the day — running to the bank doesn't have to be one of them. Mobile banking gives you back your free time and lets you bank anywhere, 24/7.
Just download the free app to keep an eye on your money wherever you go. And with features like mobile deposit, you'll have fun managing your accounts from your phone.
Summary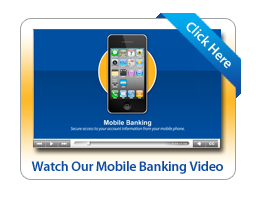 Opens a New Window.
Fast, free, and secure service for customers enrolled in online banking*
Available for personal and business accounts
Easily keep track of your finances — even on the go:

View account balances
Transfer funds between accounts
Pay bills and edit or cancel pending payments
Find nearby branches and ATMs based on current location
Text for account balance, history, and branch and ATM locations

Available via any web-enabled cell phone or device
Utilize this service three convenient ways:
Save valuable time and effort; avoid an extra trip to a branch
Learn more
View the ABNB mobile demo for step-by-step instructions.
Mobile Deposit
Take a picture of your paycheck in between snapping selfies and deposit it, right from your mobile device!
Deposit checks anytime, anywhere from your mobile phone
Free service for customers with an ABNB checking account
Save time, avoid unnecessary trips to a branch
Check the status of pending deposits
View the history of all deposits made
View checks from recent deposits (within 30 days)
Get Started
Setting up your ABNB accounts for mobile access is quick and easy! Just follow these quick steps:
First, enable your ABNB accounts and mobile device for mobility by logging into ABNB @ Home as you normally would. (Click "Access Accounts" then "Mobiliti" in the sub-menu)
Follow the steps in ABNB @ Home, but keep your mobile device handy to complete all the steps!
Once you've enabled your accounts and mobile device, click the appropriate link below (or the link provided through text) to download the app to your mobile device.
When the app has completed installation, you're ready to take your ABNB account wherever you go!
*ABNB Federal Credit Union does not charge you a fee for access or use of ABNB Mobile. You should contact your mobile service carrier for information about fees associated with sending or receiving text messages or accessing the Internet from your mobile phone. In order to use mobile browser or text banking, you must register your device(s) through ABNB Online Banking, under Mobile Banking on the Access Accounts tab.
iPhone images are registered trademarks of Apple Inc. Android is a trademark of Google Inc.