Online Banking with Bill Pay
You've retired your beeper, landline, and even your desktop computer. Now it's time to bring your banking out of the dark ages with online banking and bill pay! Get access with any ABNB account and all you need is internet to get started.
View account balances, transfer funds, make loan payments, and so much more without having to leave your house. It's the easiest way to manage your money on your time!
Summary
Online banking access is free with any ABNB checking account
Online bill pay is free when the following qualifications are met*:

Members must have at least one checking account
Members must have one direct deposit with ABNB
Member must agree to receive eStatements

Manage a number of banking activities anytime, anywhere with internet access:

Access eStatements
View account balances and history
Transfer funds between accounts
View checks written
Make loan payments
And more!

Receive eLerts (email/text alerts) when specific actions happen on your account
Make more time for yourself; fewer bank trips necessary
Print or download to Quicken for easy budgeting
*When qualifications are not met, members must pay a $4.95 fee for the service.
Online Bill Pay
The days of licking stamps are over. Save your saliva and pay bills online!
Pay one-time or recurring bills with ease:

Group payments into categories
Same day/next day payments
View pending, recent, and upcoming payments
Payments guaranteed by due date
Request money/send invoices with Popmoney

Free service when you have the following*:

A checking account
Direct deposit
eServices (which includes eLerts and eStatements)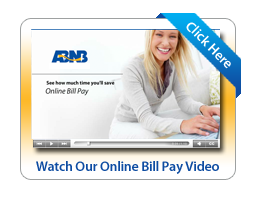 Learn more
Watch our online bill pay demo to see what this convenient service can do for you. For troubleshooting and questions about payments, please call (855) 892-7235.
Get started
Enroll today through your online banking account! Need help setting up your bill pay account? Stop by one of our branches or give our Member Center a call at (757) 523-5300!
*When qualifications are not met, members must pay a $4.95 fee for the service.
Popmoney®
Make it easy to pay your friend back for lunch! Popmoney® is a personal payment service that eliminates the hassle of checks and cash. Connect it through your online bill pay with ABNB. Use your checking or savings account to send and receive money using just an email address or text message.
Send money to family and friends
Request money/send invoices
Option to add personalized e-greetings for any occasion
Must have online bill pay in order to use Popmoney®
Learn more
Watch our demo to learn more about Popmoney's features.
Get started
Contact us to learn how to get started!
Business Online Banking
Take care of business — without having to leave the office! Business online banking is available 24/7, wherever there's internet.
Save time and money by banking online
Free with an ABNB business account
Perform all kinds of banking activities:

Check balances
Transfer funds between accounts
View account history
Make loan payments
And more!
Get started
Enroll in business online banking today!
Note: If you receive an error while self-enrolling, contact our Member Service Center at (757) 523-5300 or email us.