They say you can't judge a book by its cover. Take ABNB's Visa® debit card — it looks like a credit card but provides the easy access to your checking account that a check would.
Shop online and in stores all around the world easily and securely. And there's never a fee to use your card. We believe you work hard for your money, so you shouldn't have to pay to use it!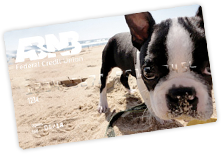 Summary
Fast, free, and easy
Connect to Apple Pay to make payments through your phone
Safer than carrying cash
More convenient and safer than checks
Eliminate cost of purchasing checks
Make purchases anywhere Visa is accepted
24/7 access to funds via ATMs
Easily replaced if lost or stolen
VISA® SRC for added security
Fraud Protection
To initiate a fraud or dispute claim, please call 1-800-600-5249
If a fraudulent purchase is suspected on your debit card, Falcon/Enfact will contact you directly to verify the transaction. For your reference, to ensure this is a legitimate contact, the numbers that will appear on your caller ID are:
1-800-369-4887
1-727-570-4881 (International)
To report a lost or stolen debit or credit card, please call 866-839-3485.
Custom Cards
These days you can personalize just about anything, so why not add a personalized debit card to your monogrammed wallet? Show everyone what's important to you — your child, pet, favorite vacation spot — with an ABNB Custom Photo Card! It's easy to set up and just $7 to get your customized card.
Customize My Debit Card
Once you're ready, get started here.
Enter the required account information, then click, "Submit Information and Design Your Card."
Upload your own photo or select an image from our gallery, then position it how you want. (Just make sure the image extends to the edges of card!)
Then click "Preview" to make sure it looks exactly how you want! If you're satisfied, click "Submit."
That's it! Your card will be ready for pickup at the branch you selected within one business day.